Experience: the L&D journey of an Electrical Design Engineer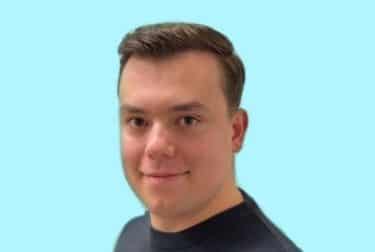 We caught up with electrical designer, robbie stanley, on his learning and development journey at BGEN.
In 2012, Robbie left school and started work at our panel shop in Penketh as an electrical apprentice, working on a wide range of projects from telemetry panels for the water industry to Motor Control Centres (mccs) for the pharmaceutical industry.
Moving on from the panel shop, Robbie joined the team at AstraZeneca in Macclesfield during which time he completed his apprenticeship and was awarded the '2017 ECA North West Regional Apprentice of the Year'.
Robbie began pursuing a career in Electrical Engineering. He was placed onto a HNC in Electrical & Electronic Engineering and in the meantime continued to extend his on-site experience by working in other sectors.
After completing the HNC, Robbie was further supported onto a place at the University of Bolton where he currently studies.
A few months after returning to working full time in the water industry, Robbie was offered a place in the Engineering & Design Department as a Trainee Designer and – after gaining experience with fellow engineers – has now been given the position of Electrical Designer.
At what point in your career did you realise you wanted to get into design?
From school, I always wanted to be involved with design, but it was only after I started working within the electricity industry that I leaned towards electrical design. After working within this industry, you get to see the attention to detail every aspect of the project has and to be a part of creating every single detail is amazing.
How did your background affect you achieving in your design role?
I needed to complete a lot of work for my personal development: Whilst qualifications are a must, gaining experience is also needed. For example, when designing a job, it's much easier to understand when you have experienced and installed something similar. In terms of Health and Safety particularly, you can greatly reduce the risks involved, having already been there on electrical jobs. This is not to say that you must come from a site background, but it did help me greatly within the first year of being in the E&D department.
Since joining the drawing room, what are some highlights for you?
The most exciting thing has been understanding how projects are completed 'behind the scenes.' Having insight into things such as deliverables required (i.e., not just loop diagrams), understanding lighting calculations, what lux levels are required to undertake different activities – all these things really bring projects to life from concept to detailed design.
Having the opportunity to be involved with major projects and blue-chip clients is very rewarding and being able to work alongside very experienced and technically minded engineers is what makes this job always interesting.
Has anything helped in attaining your goals, other than getting qualified?
It's the people here that have been the biggest help. For example, after completing my HNC, I discussed my development onto a Degree Apprenticeship in Electrical & Electronic Engineering with Glyn Shawcross (Engineering & Design Director) who fully supported me, and this ultimately was my route into the drawing room.
Working Under David Higham (Senior Engineer) has been a major help since joining the E&D department. Dave has taken the time to explain how projects are run and how – as an E&D department – a project can be delivered.
Throughout my career with BGEN I have had the opportunity to work with very experienced and technically minded people. These people have helped me in every step of my journey so far and I wouldn't have been able to do what I do today without any of them.
How does your degree course fit into your trade?
My Degree course is beng Electrical and Electronic Engineering. This course is a Degree Apprenticeship, recognized by the IET which is a major benefit for helping me become a chartered engineer. The IET ensure that my degree teaches the required level of knowledge and experience in order to obtain recognised chartered status. My degree course also gives me the opportunity to study the past present and future of my field.
Where do you see the future of electrical design?
Electricity is the future! The world's becoming greener and the electricity industry is going to play a major role in making the world more environmentally friendly in key areas such as Renewable Energy. There is a lot of hope in the future for our engineering & design department to be a part of this future.
I recently joined in a CPD session in which the subject was 'Building Digitalization Architectures for Collaboration, Mobility and Closing the Loop'. This was very interesting as we can see examples of moving towards a smarter approach, using WI-FI technology and the Internet of Thingsto implement sensors to systems where wiring is not feasible. These sensors are controlled using a private network and can give the user information instantly without the need for hardwiring.
Each month the industry seems to be evolving and brings further opportunities for us to develop our knowledge.
Robbie currently studies at the university of bolton, gaining the knowledge to undertake workplace tasks and currently working under one of our senior engineers learning all there is to know on a major project.